Cupcakes are now more popular that cakes at parties and special occasions and events. Birthdays, weddings, baby showers, holiday parties and more. A beautiful addition to your party table as the centerpiece.
Decorating cupcakes is always fun but adding cupcake wrappers & arranging them in a unique way can really be a great finishing touch to your table scape. The above cupcake stand and many others can be found at Sugar Craft by Rosie
Unique Cupcake Wrappers
Click for MORE cupcake Wrappers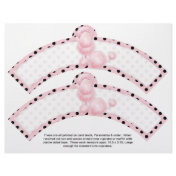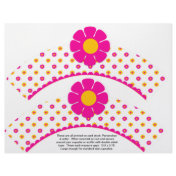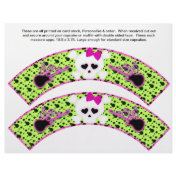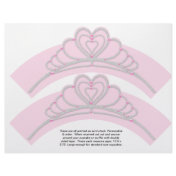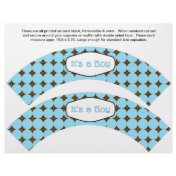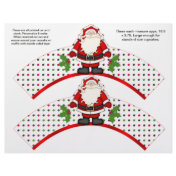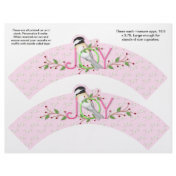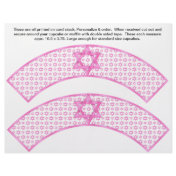 These great CUPCAKE WRAPPERS are a perfect way to dress up your cupcakes, and add that extra touch of warmth and caring. They make every cupcake a really special treat!

Each wrapper is beautifully decorated and adjustable to fit any size of cupcake or muffin. These can be Personalized with a name, date and/or your favorite saying. After ordering & receiving them, simply cut out with regular scissors OR use deckle or pinking scissors for an added touch.

What a unique way to create party favors for any celebration!!
Basic Chocolate Cupcake recipe
Serves: 12 cupcakes
Prep Time: 30 min.
Total Time: 1 hour
Ingredients
3/4 cup unsweetened cocoa powder
3/4 cup all-purpose flour
1/2 teaspoon baking powder
1/4 teaspoon salt
3/4 cup (1 1/2 sticks) unsalted butter
room temperature
1 cup sugar
3 large eggs
1 teaspoon vanilla extract
1/2 cup sour cream
Instructions
1. Preheat oven to 350 degrees. Line 12-cup standard muffin tin with paper liners.
2. Into a medium bowl, sift together cocoa, flour, baking powder, and salt; set aside. In a mixing bowl, cream butter and sugar until light and fluffy. Add eggs, one at a time, beating well after each, then beat in vanilla. With mixer on low speed, add flour mixture in two batches, alternating with sour cream and beginning and ending with flour.
3. Pour batter into cups, filling each 3/4 full. Bake until a toothpick inserted in centers comes out clean, 20 to 25 minutes.
4. Cool in pan 5 minutes; transfer to a wire rack to cool completely, then spread with Easy White Icing (next recipe) using a table knife or small offset spatula. Decorate with sprinkles, if desired.
Easy White Frosting
Serves: enough for 12 cupcakes
Ingredients
1 1/2 sticks unsalted butter softened
1 pound (3 2/3 cups) confectioners' sugar
1 to 2 tablespoons milk (optional)
Instructions
1. In a mixing bowl, cream butter until smooth.
2. Gradually add confectioners' sugar; beat until smooth. If too thick to spread, beat in 1 to 2 tablespoons milk.