Mardi Gras Images
Diane Millsap
Buy This at Allposters.com
Mardi Gras in New Orleans
Mardi Gras also Fat Tuesday in English, refers to the Carnival celebrations, beginning on or after the Epiphany or King's Day and culminating on the day before Ash Wednesday. Mardi Gras is French for "Fat Tuesday", reflecting the practice of the last night of eating richer, fatty foods before the ritual fasting of the Lenten season.

Traditionally, in the days leading up to Lent, merrymakers would binge on all the meat, eggs, milk and cheese that remained in their homes, preparing for several weeks of eating only fish and fasting.
Louisiana is the only state in which Mardi Gras is a legal holiday.
Across the nation and worldwide - Mardi Gras has become a popular theme for parties and special events.
Traditional Mardi Gras Colors are Purple, Green and Gold (or yellow).
Masks, beads, balloons, coins and feathers are perfect decorations.
Table Decor and food are a centerpiece to any Mardi gras party.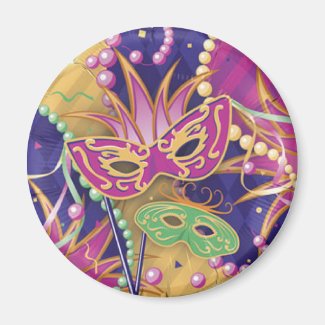 Mardi Gras Magnets locker magnets Fridge Magnets
by
kjscreations
View other
Mardi gras Magnets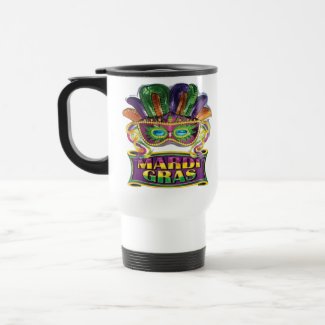 Mardi Gras Travel Mug Coffee cup
by
kjscreations
Browse more
Mardi gras Mugs